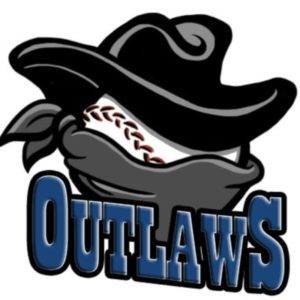 About the Outlaws
The current iteration of the Outlaws joined the league in 2019. They are managed by Bob Fernandez.
In 2022, they finished in 7th place in the regular season and were later eliminated from the playoffs by the Blacksox.
In addition to playing in the SLO MSBL, the Outlaws recruit other players to join them in playing in NABA and MSBL tournaments throughout the year.
The Outlaws are always looking for new players to join them for league and tournament play.
Through 3 games, the Outlaws are 1-2, with a walk off win sandwiched between 2 blowout losses.
Outlaws 2023 Schedule
| Date | Field | Time | Opponent | Result |
| --- | --- | --- | --- | --- |
| April 2 | AG | 4pm | Primos | L 0-12 |
| April 16 | AG | 10am | Hops | W 3-2 |
| April 23 | SLO | 10am | @ Legends | L 1-19 |
| April 30 | SLO | 4pm | @ Hogs | L 5-6 |
| May 7 | SLO | 10am | @ Blacksox | L 3-15 |
| May 20 (Sat) | SLO | 2pm | Angels | L 5-13 |
| May 21 | SLO | 4pm | @ Eagles | L 2-11 |
| June 4 | AG | 12pm* | @ Primos | L 1-5 |
| June 11 | AG | 9:30am* | @ Hops | L 2-9 |
| June 18 | SLO | 1pm | Legends | L 2-11 |
| June 25 | SM | 10am | Hogs | W 14-3 |
| July 2 | AG | 2:30pm | Blacksox | L 2-15 |
| July 9 | SLO | 5pm | @ Angels | L 5-16 |
| July 16 | AG | 12pm | Eagles | W 11-3 |
| July 23 | SLO | 9:30am | Primos | L 0-9 (f) |
| July 30 | SLO | 12pm | Hops | L 1-4 |
| August 6 | SLO | 2:30pm | @ Legends | L 0-12 |
| August 13 | SLO | 2:30pm | @ Hogs | L 1-4 |
| Playoffs--Rd1 | | | | |
| August 19 | SLO | 10am | @ #6 Eagles | L 5-6 |
| August 19 | SLO | 4pm | @ #3 Blacksox | L 0-9 (forfeit) |
Outlaws 2023 Roster
Manager: Bob Fernandez
| # | Player Name | Positon |
| --- | --- | --- |
| 30 | Bob Fernandez (Manager) | P,1B, OF |
| 19 | Ron Andante | P, C, IF, OF |
| 1 | Kaija Bazzano | IF |
| 22 | Anthony Divicarro | IF, OF |
| 14 | Toby Dart | P, 1B |
| 4 | Mario Guana | IF, OF |
| 33 | Joe Garrison | P, 1B, OF |
| 5 | Barry Pardo | OF |
| 11 | Skylar Souza | C, OF |
| 3 | Joe Ray Valdez | OF |
| 12 | Josh Core | IF, OF |
| | Gabe Dalo | IF, OF |
| | Ryan Bracamonte | IF |
| 8 | Matt Hill | OF |
| | | |