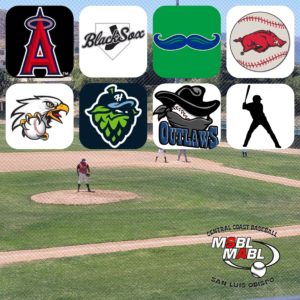 A good turnout produces a productive discussion at SLO MSBL League meeting
Gathering at Santa Maria Brewing Company in Atascadero, the leadership of the SLO MSBL met to kick off planning for the 2023 adult baseball season. The first league meeting of the year had a great turnout. Seven out of eight team managers were present to discuss potential changes, concerns and a roadmap to getting the season off to a great start.
Fees were set. A plan for getting out a schedule was discussed. Deadlines were announced for team deposits and a date for getting the rest of the team fees turned in.
Here's a look at the highlights of the meeting, the player fees for 2023, deadlines and scheduling.
Important SLO MSBL 2130203dates and schedules
Opening Day
As of right now, the tentative Opening Day for the league will be April 2, 2023. As long as teams keep to the schedule for turning in rosters and fees, and weather permitting, SLO MSBL will be kicking off the new league season on the first Sunday of April.
Projected Sundays off
Being a Sunday league, the SLO MSBL runs into holiday weekends. Because most of the players have families to answer to, the league typically has a bye week on most major holidays.
In 2023, it is projected the league will have a bye on April 9 (Easter), May 14 (Mother's Day), July 2 (4th of July), and September 3 (Labor Day). These bye weeks are not set in stone and are subject to change should the scheduling needs of the league require. An example of a need to have games on those weekends would be to make up for rain outs.
It was also discussed that the league may do some type of event on the 4th of July weekend and/or Labor Day. Though still in the dream stage, ideas included a league All-Star game or a small invitational tournament with teams from the Central Coast (north Ventura county to Monterey County) invited. This is still in early discussion with further deliberation to come later.
Fees and Rosters
In order to get the ball rolling on securing field permits, insurance and scheduling umpires, the league set dates for team deposits and a separate date for the balance of player fees to be turned in.
An initial deposit of $500 needs to be turned in to the league president no later than February 15 to secure a team's spot in the league.
Initial rosters and the remainder of corresponding player fees are due to the league by March 15. Players can be added to rosters after this date, up until the league roster deadline in July. However, a team must have enough players to play (a bare minimum of 9) on their roster and paid by the March 15 deadline to be considered a viable team for the season.
The player fee will be a total of $285 for this season. This fee is made up of a $35 MSBL registration fee and $250 league fee that covers field rentals, insurance, umpires and other league costs.
A player is not officially a part of a team or eligible to play in any SLO MSBL game until their player fee is submitted.
Any players interested in joining the league can fill out a player interest form. SLO MSBL will do its best to help interested players get onto a team.
Schedules
In years past, scheduling has come down to the week before the season. The reason for this is that teams have been slow to get fees and rosters turned in on time. It's hoped that this year, team managers will better adhere to the deposit and player fee deadlines. As long as all teams have their deposits in on time, the league can begin building the schedule.
The target for this season is to have the initial schedule available by the first week of March. That will give teams and players a better opportunity to plan out their weekends and prepare for the season.
Once schedules are made, you will be able to find them on this site's home page. Also, the individual team schedules will be available on each team's individual page on this site.
other topics discussed
A couple of other topics were brought up at the meeting.
James Hixon, the league president, made an announcement that 2023 will be his last season leading the league. A plan for moving forward was discussed among those present. James has a hand-picked candidate to take over for him. But out of fairness to the managers and players in the league, the spot will be filled by a vote of the managers after others are given the chance to throw their hats in the ring.
Also talked about is the possibility of creating a mobile app for the league. Communication is always an ongoing issue. Whether between the league and managers or between the managers and players, improving information flow is an important topic.
A mobile app would make it convenient for all involved. Every player could have the schedule, last minute changes and any league info at their fingertips. It will help communication and streamline information.
A lot was put on the table at the league's first meeting. Those present were able to make important decisions for the coming year to get the season started on the right track. Hopefully, it's a sign that 2023 will be the best SLO MSBL season yet.
The next league meeting is scheduled for Saturday, March 18. A location and time will be announced soon.