SLO MSBL is accepting teams and players for the upcoming season
SLO MSBL, formally known as Central Coast MSBL, is In early planning for the 2023 adult baseball league season. It is accepting teams interested in joining, as well as individual players that want to get out on the field this spring and summer.
The first league meeting is coming up on January 7. Things to be discussed include divisional structure, costs, player fees and some administrative items. For those hoping to add a team to the league this season, it's recommended you attend this first meeting to be a part of the planning. There are currently seven teams in the SLO MSBL. If you are interested in adding your team to the league this season, contact League President, James Hixon by texting 805-234-7706. Leave a message. He will give you more information about the league meeting should you decide to attend.
About the SLO MSBL
The league began in the mid 1990s and has been in existence ever since. Players 18 and up are eligible to play. Each year the divisional structure is reviewed to adjust for changes in the age make up of teams.
In the past, there have been two age divisions, 18+ and 35+.
Last year, due to the younger teams getting older, the league adjusted to a single modified 30+ division. Teams were allowed as many players over 30 to be on the roster as wanted, with no restrictions. However, so that younger players could still play, each team was allowed up to five players under 30 years old. Those players were restricted to a combined 3 innings of pitching per game.
This year, the divisions have not yet been determined. If new teams join the league, it's likely that the league will readjust.
Game play
Games are 9 innings or 2:45. Most games are played on Sunday. But if there are rain outs, games might be played on weekday evenings to make them up. The playoffs are typically scheduled as three game series on Saturdays and Sundays at the end of the season.
Game times are 10am, 1pm and 4pm.
SLO MSBL is an affiliated league of the National Men's Senior Baseball Association (MSBL national). Most of the rules are based on the Official Baseball Rules (OBR) with some MSBL modified rules as well as some local league modifications.
MSBL rule modifications include lineup structure, pitchers being able to return to a game after being removed and a pitcher being required to leave the mound if they hit 4 batters in a game.
Local rules include age divisions, positional age restrictions and other modifications to make games run smoothly.
On the field, it looks, feels and plays like a regular baseball game.
What to expect during the season
The season usually begins in early April and runs through the end of August. Playoffs follow the end of the regular season. Games are played every Sunday except Memorial Day, 4th of July and Labor Day weekends. Teams can usually expect to play 14-18 regular season games and usually at least one round of playoffs.
The majority of games in the SLO MSBL are played at Sinsheimer Stadium, 900 Southwood Dr. in San Luis Obispo. Sometimes the field is unavailable as the league shares it with the SLO Blues of the CCL. When an alternative field is needed, games will be played at Porter Field at 1467 Ash St in Arroyo Grande or at Alvord Field at 8056 Portola Rd in Atascadero.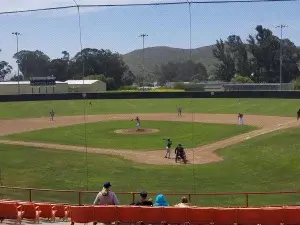 Team structure
Teams are responsible for building their own rosters. They are allowed to recruit players and add them to their roster before the season or until the deadline, typically in July. All players must meet age requirements established before each season. They must also be registered and have paid the player fee to be eligible to play.
The fee structure is per player, not per team. The total cost per player each season will be well before the beginning of the season. Last year, the player fee was a total of $265 for the season.
Free agents, or individuals that want to play but don't have a team, can contact the league. SLO MSBL will attempt to place you on a team in need of players to balance the competition of the teams. If there are enough free agents waiting for a team, the league may create a new team.
One thing to note. This isn't little league. You can expect to get time on the field, but there is no guarantee of playing time. Managers are allowed to manage the team as they see fit. Having played in this league for years, I can say that everyone who participates will play, but how much on the field time you get will depend on your abilities and the needs of the team.
If you want to maximize your playing time, read our article on Things to do when joining an Adult Baseball League.
What are you waiting for?
If the game has been calling to you, now is the time to answer. Do you wonder if you still have what it takes? The only way to find out is to get back on the field. Adult baseball is challenging, rewarding and fun. The game tests you like no other.
Start planning now. Begin your training and get in game shape.
If you are over 18 and interested in playing baseball in SLO county, contact James Hixon by text at 805-234-7706.
Any day on the field is a good day.